With the Floating city project wrapped up for good, it is time to move on to the next project of the Imaging and Data Visualisation model, and that is to make my own face on Maya using topology.
The topology, from what I have been taught, is crucial when modelling any character. It must be perfect in order to deform and animate properly, otherwise it will all end in disaster. Like the floating city, the topology must be made entirely of quads.
So, what I want to do is conduct research into the topic of face modelling and find any good sources worth documenting in the post. As of now, this concept is baffling, because I know for sure that this module will not be easy.
My group in the Floating city had topology issues with the spire. I just hope not to rush into similar problems on a regular basis once I start my face model.
—
The first site I visited to find tutorials was YouTube. I would learn better from videos, as they show the full process from start to finish fluidly. This is the first tutorial I clicked on, and it seems like it could really help.
Another tutorial, split into more parts.
Another thing I learned from lectures on face topology is that there are certain areas of the face to look out for, and those are the eyes, laugh lines, nose and mouth. It is good to plan out the areas of  the face by highlighting the areas in different colours, like in these images below, which I pulled from Google images.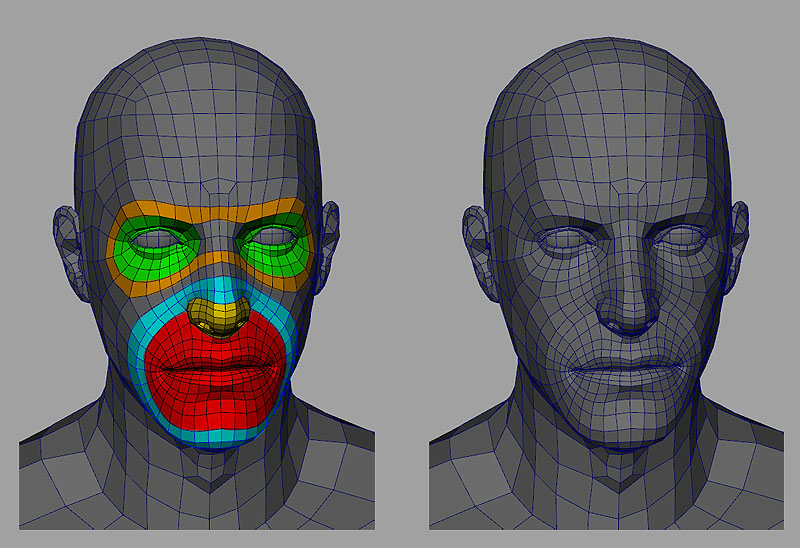 You must also have a front and side view of who you are modelling, and thankfully for me, Conánn took photos of me to use and experiment with. They were taken with his camera with aid of photography studio lights.
One thing I will need to take note is that my face is asymmetrical. From looking at the photos, particularly the front view, I can see that my left eye is slightly higher than my right eye, and the left side of my lips is slightly fuller than the right on the top lip. Aside from that, everything else looks practically similar.
It was a great deal for me to upload these photos. I really didn't look my best that day, wearing no make-up and slightly oily hair. Ugh. Wish I put more effort into looking better that day!
Also, a picture of my ear, as in the other photos, it is partially masked by my hair.
But I digress. Before hopping straight onto Maya and starting a model, I will go on GIMP or Paint Tool SAI and draw on the topology I think will shape my face the best. Since everyone's faces will have different shapes, topology must be altered accordingly to accommodate the shape one is trying to create.
Here are topology experiments that I have made so far (I plan to make topology for one side of my face, mirror the geometry and then alter the mesh accordingly to add the asymmetrical features of my face. This is why I only cover half of the topology in the draw-overs).
I did attempt a topology drawing, but I admit, I didn't find it particularly helpful – I gave up on it, but I will share it nonetheless. I felt starting the modelling process was more helpful in all honesty.
Since I feel I got enough research conducted, I am ready to begin the modelling process, which I will cover in a future post.